Getting rejected by a therapist was not on my bucket list
My 29th birthday party was a blast, for everyone but me.
It was 11 minutes past my bedtime and I just wanted to go home. So I left.
My life is pretty good in theory- I live in sunny Singapore, am somewhat fit, run a profitable bootstrapped startup, have family and friends I can call at 4AM, sleep for 9 hours most nights, and come from some privilege. And I generally do think of myself as a happy person.
But for the past few years, I've had this nagging feeling that life is passing me by.
When did I finish my coffee?
What did I have for lunch?
It is terrifying to realize how much of my life runs on auto-pilot as I'm replaying the past or thinking about the future. Once in a while I get this feeling of suddenly zooming back into my life. It happens randomly and I can't tell if the life I lived for the last few weeks was me.
It's also a particularly difficult time to be running a tech startup.
I recently reached out to a therapist recommended by a fellow founder friend. She didn't respond. I'm still trying to figure out how she knew I'm beyond repair from one brief message. She must be really good.
Now that I know I'm on my own, I've been making some attempts to be more present and live with more intention. Here goes.
Learning (or trying) new things
A couple of years ago, I met a Vietnamese friend for dinner at an Udon noodles place. I was only 20% done by the time he finished dinner because I was failing at chopsticks. I didn't know what to do so I said I wasn't hungry. Made another stop and ate a dosa on my way back home. Not anymore. I can now eat noodles with chopsticks like a pro.
I tried a spin class recently. Had no idea cycling in place could be so glamorous. Disco lights. Smoke machines. Micro-influencers. I went on an overnight camping trip and loved it complained about it for a week.
I tried Birkenstocks because according to some obnoxious people (who can self-identify) Adidas slides are too ugly to wear to work.
I'm learning to swim on Tuesdays. So every Tuesday afternoon I start praying for it to rain.
Also obsessing over LEGO.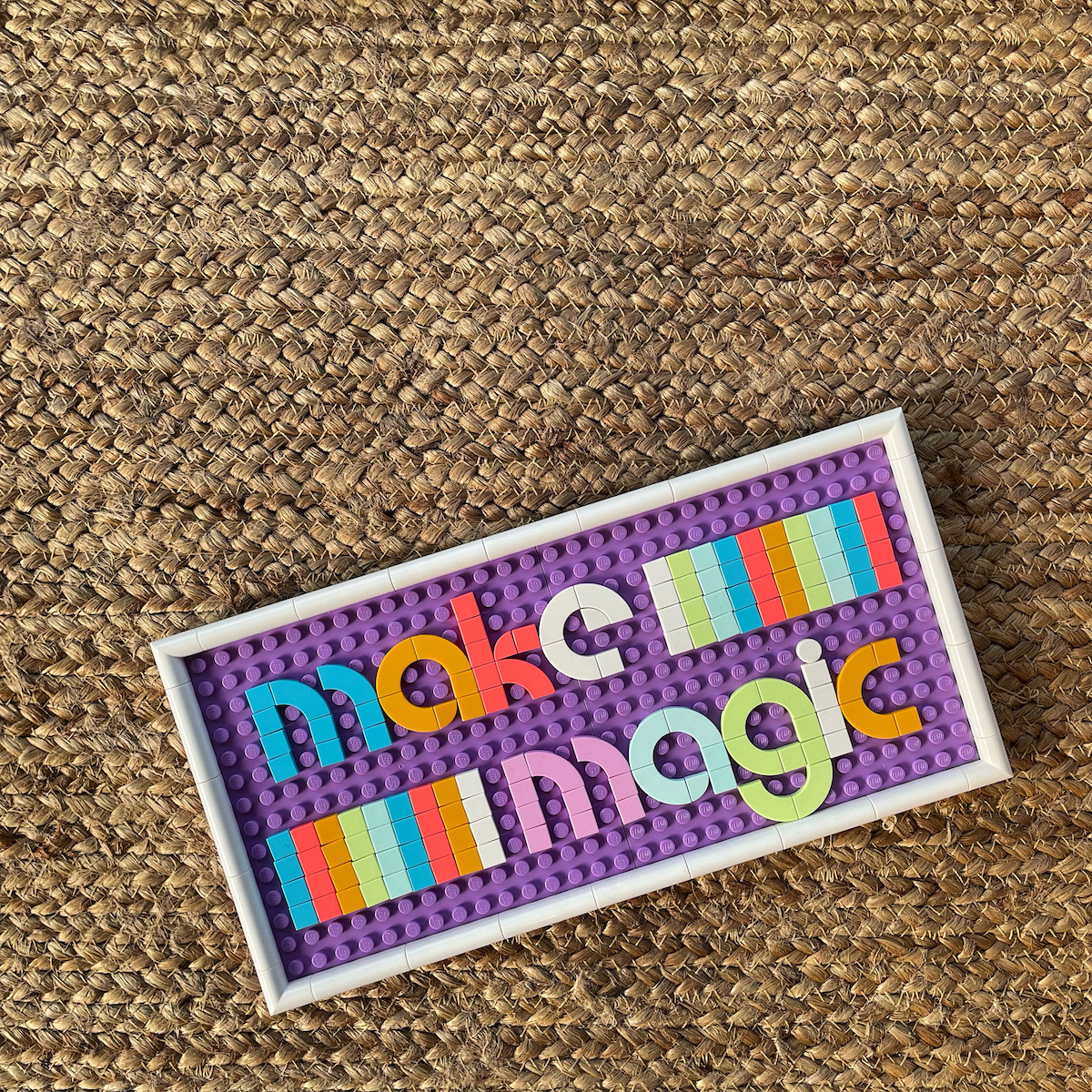 Trying new things is one of the easiest ways to slow life down.
Being okay with being myself
The last backpack I had was pretty cool. For someone in 7th grade. So I was looking for a new one. I spent more than 200 hours over several months to come across the Fossil Elena backpack. Not including the time I spent following random people to check their backpack brand to google later. I hate that I spent so much time on this- I could have accomplished so much instead.
But the backpack makes me feel good everyday.
I knew I was weird even before I knew weird was a word. My earliest memories revolve around not relating to anyone at school and wanting to be alone.
Finding a voice to express the weirdness has been fun. A few years ago I started permitting myself to share it with my friends. Now I'm trying to do it more widely.
It makes me feel special when someone enjoys my weirdness. Setting up this blog is also a step in that direction.
Meeting interesting people
I'm socially awkward but I like meeting interesting people (one at a time). I've accepted that I'm not going to make the first (or the fourth move). But being in one of the safest and smallest countries in the world makes it easy to say yes when someone else reaches out.
This fellow founder found me on LinkedIn when I shared the first blog post.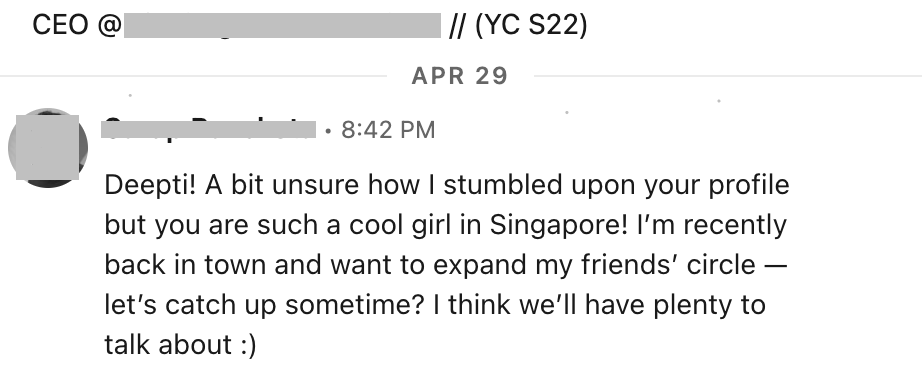 Yes, I'm basic and flattery works.
We met up over a walk near Marina Bay Sands. Spoke about running our respective startups, dealing with landlords in Singapore and building a chai brand.
I came across another founder on a peer-to-peer marketplace, after I bought a balcony table from him.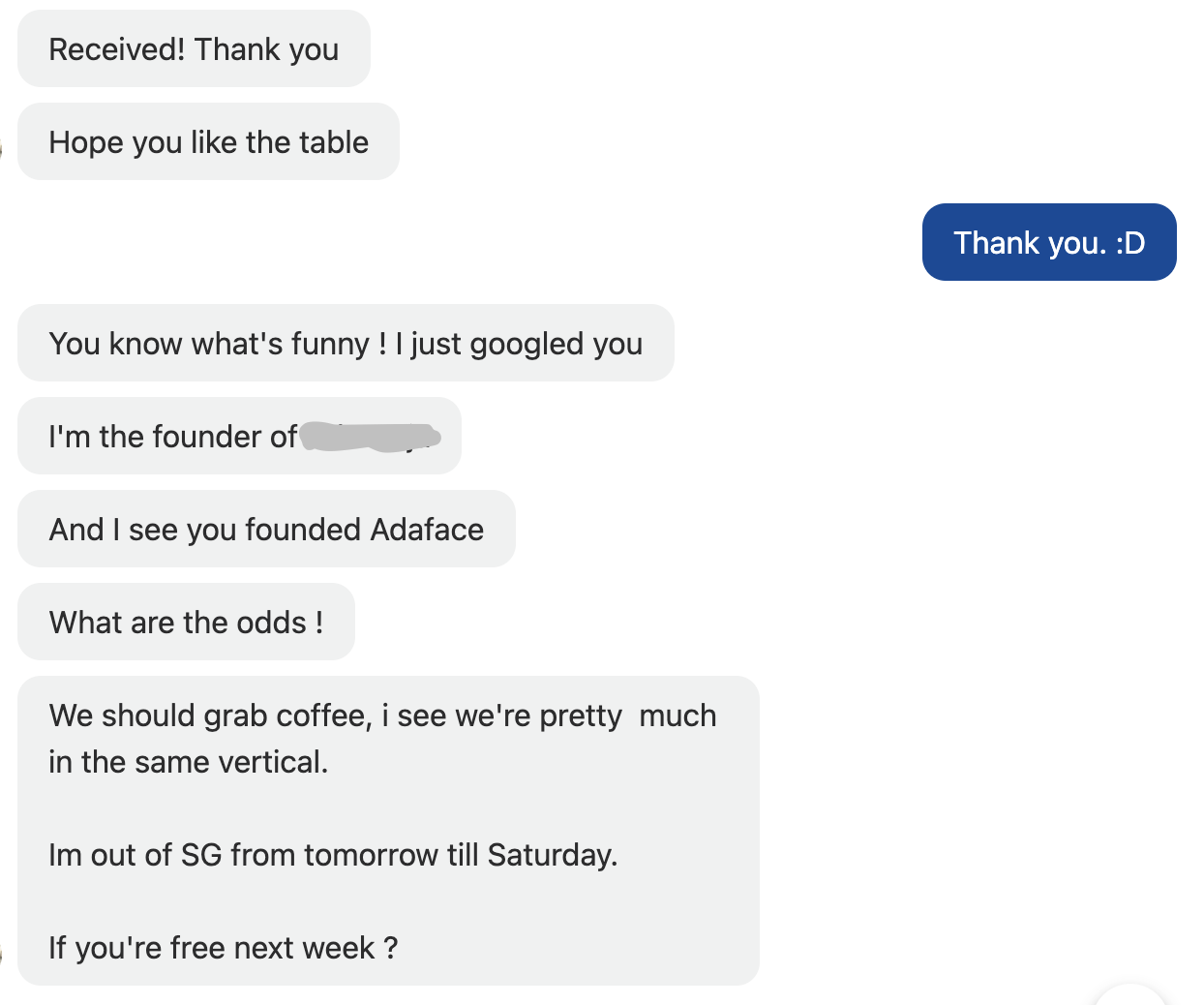 Haven't met him yet, probably some time next week.
How it's going
I only just got started but I do feel like I'm living with more intention (on good days). Having a clear plan of action irrespective of how my day is going helps.
I keep coming back to this quote from Donald Miller's book, A Million Miles in a Thousand Years:
If you watched a movie about a guy who wanted a Volvo and worked for years to get it, you wouldn't cry at the end when he drove off the lot, testing the windshield wipers. But we spend years actually living those stories, and expect our lives to be meaningful.
I don't want to wait until the end of my life to see if it was movie-worthy.
So I try to start my day with this question: If 2023 in my life was a movie, would I want to watch it?